#Covid stories of travels back home
#Stories of their travels back home. May 23 am
Nothing could convince them to stay. So we did what we could to help our police and the travelers undertaking such an arduous journey back home.  At 10pm last night, 48 hours after we had seen them off with relief, we received word that they were badly in need of water and food. The train was late. V late. 20 hours late. We learnt they were about to approach Prayagraj. A resident angel who has been instrumental in providing good for 1,00,000 people to date since the lockdown started kicked into action.  He knew people in Prayagraj. Working furiously he set everything in motion and by 1.35 am he sent the below message
 "Water and biscuits will be served again at Mughalsarai
" They got water and 5 Samosas each.
Also train water tank is full. Washrooms also cleaned."
At 1.45 am we got the below msg from a passenger on that train…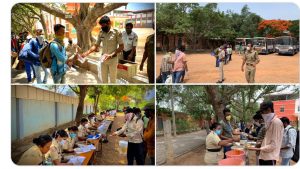 #Stories of the Police May 26
From Volunteer: Shailaja
Chitresh – "a name that most of us would have heard everyday in the last 2 months of our voluntary work. My first interaction with this extremely hard working and sincere cop was during one of my staples distribution drives. It was one of the initial drives when we had just set out to distribute staples to the affected people. And we were still learning, not fully knowing what to expect.
I was informed that Chitresh would be coming to help us with the distribution on that particular day. With multiple stops, it was going to be a long day.
Dot on time, Chitresh arrives with another cop Ravi at the first location. It was a small and quick distribution and we move on to the next. Here we were faced with many people reaching out to us for help. Now how do we know who had received help earlier and whose ask was genuine ? Chitresh quickly sorted that out. Without blinking, he just went door to door, assessed the condition of every single household in that cluster, came back with the complete list of whose ask was genuine.
Point 3 – We had anticipated 27 bag requirement at a construction site. But it turned out that there were many bachelors staying in each room at those half finished sites. Even here Chitresh came to the rescue. He ensured that we don't miss out anyone who needs help.
Enroute to Point 4, he also made it a point to stop at the various small clusters of the huts, incomplete work sites and take a note of the headcount so that we can reach out to them in our next round of distribution. I clearly remember his strong and angry retort when one guy complained that no one is catering to Hindi guy and only local guys are being helped "Don't ever say such things to us. We are police. We don't care whether you are Kannadiga, Hindi , Bengali. It doesn't matter to us".
By now it was way past lunch time. Exhausted totally, he requested if we can take a short lunch break and offered all of us lunch at the police station. He made it a point to include the truck drivers as well who were helping us at every point.
And the same dependability has been a big help to us in our efforts. He is always just a phone call away, whatever time of day or night it might be. Always on the lookout for people who need help either with food, travel or any other requirement during this crisis, he has proven to be our Go To person at the Whitefield police station."
#Stories of the Police May 24
When we have seen the Police fixing Potholes, in the past, we have always wondered why BBMP couldn't do it right themselves. But it took this pandemic to see the stark differences between Government Departments. Suddenly it was the police everywhere – but not in the way we expect – ie for Law and Order maintenance. Instead we saw them get into every lane to deliver food we would bring from our centers. It was also them basically taking on the entire load of helping transport lakhs and lakhs to other states – running a railway reservation system manually along the way! All this while also maintaining law and order.
One wonders- why isnt there more collaboration within the government departments? Why arent they each working on their own areas with the same zeal and responsibility we see in the Police? For instance, Rs 8000 crores sits with the Labor department – collected as Cess for the very purpose of taking care of the welfare of those coming into Karnataka. What has been done with that? BBMP could be extremely busy building all the necessary infrastructure in readiness. And Technology could be utilized in Tech city with such effectiveness!
In our experience, individuals we meet within each department seem excellent in their own right. But collectively, they are not working with the collaboration we need to see for an A+ performance these times necessitate. Maybe they just need to be on the ground more and see reality like the Police do daily. It is hard to imagine what it is really like on the ground when you operate from a tall cool imposing building with an even more grand room and desk for oneself.. Maybe this is why good Kings of the past dressed in disguise to mingle with the masses and see for themselves what was going on…
Congratulations to the Police for a tremendous job above and beyond.??
#Stories of the Police. May 23 am
Anyone that has anything negative to say about the police in "general" must volunteer on the ground to get a "glimpse" into their lives.
Take PSI Manasa for instance, as we recount our volunteering experience on May 21.
The situation on the ground is high pressure. Hundreds of hopeful workers have been taken in for their train to Bihar (thousands more await, in throngs as they all have for days and days staying out in the open). Her job is to ensure all the paper work is done, all the medical checks done, everyone fed and boarded up into the special buses within the times so they can get to the precious train that will then take the workers to their hometowns over many days, snaking through the vast lands of India.
She knows every second is precious. Yet no second goes by without someone asking her something. Calm, polite, clear headed and thankful to volunteers, she finishes the job.  As we get ready to return home exhausted after the noise, heat, dust and thirst, we see her at her desk. She is getting ready to load the next bus….
#Stories of the Police#
They are meant to keep law and order. But this unprecedented time suddenly puts them at the forefront of relief work. All hours of the day we have seen them provide food, water to everyone in need. No distress call is left unaddressed as they do their best to transport whoever needs it to wherever they need to shelter for the night. Through it all, as we civilians want to find expression through serving those in need during the crisis, we inundate the police with suggestions, offers of support, advice on process improvements and so on, we find one thing remained steady-  their utterly polite accommodation of everything and everyone even as they operated under extreme stress and even more extreme exhaustion. Continuously exposed to not just the possibility of Corona but everything in between, one wonders how they can humanly do so much. They just laugh and say "It's our duty m'aam'". Two such amazing leaders we met in the Police forces are DCP Anucheth and ACP Manoj Kumar.
These times are a reminder that we must be careful of the privilege of social media. One negative behavior within a group must never tarnish the image of the whole. The Police have been silent heroes in our eyes.
 #Stories of our volunteers – 1
When asked why he lined up at 4pm for a Train to Bihar that wasn't until the next day at 6pm, he said. "Kya karoon madam. Roz khadaa hota hoon aur roz waapas jaana padta hai. Kal tho mera number 201 tha. Sirf 200 logon liya unhone". (What to do madam? I stand everyday and I have to go back everyday. Yesterday my number was 201. They took 200 people). The narrow miss made him so dejected he couldn't stop repeating the same thing.
The next day we were volunteering to help the travelers with food, tickets, form filling and more. A persistent voice makes me acknowledge it and I look up expecting to ask the individual to kindly wait his turn so I can finish helping the other traveler.
Who do I find? Traveler #201. Having seen all that we had been doing, he just wanted to say "shukriya"(thank you).
I was glad he made it. Many others didn't – yet again.
 #Stories of our volunteers – 2
When they broke the line to go get the food we brought, I knew hunger had won. You see, they wait days and days and days standing in various lines for a chance at the too few trains available for the lakhs wanting to travel. Social distancing? Think the opposite of that and add in pushing, shoving and aggressive warnings to anyone trying to cut the line. As they face all this hardship, I ask many why they want to go home so badly.  More than one person teared up as they all said the same thing. "bas abhi ghar jaana hai" (only want to go home now). It is hard to understand this since we know things could be worse for the poor as they head back to states that they had left in the first place to seek a better life. It could be a combination of fear of this strange bug, the uncertainty of the future, practical difficulties of daily life without money. Whatever it was, they were firm that they would go home, often dramatically proclaiming they would rather die at home.
Which is why it was heart-rending to see them break that precious line to get to the food we gave. Atleast we had some treats in store for these exhausted people. You see hundreds of homes in the neighborhood had labored and hand made rotis in large volumes because it was comfort food familiar for these travelers who were living and working in a rice eating state! Those rotis were gifts of love from one stranger to another. Safe travels my fellow beings ?